Artwork Added by Team allows you to import your own collection of art or background images.
Artwork Added by Team can be found under the "Photos" section of the left panels navigation menu

To import your own background images, click on "Backgrounds" on the left sidebar. Then click the "Add Photos" button in the top right. You can choose the source you would like to upload from, select the image(s), and click the "Upload" button.
To import your own art, click on "Art" on the left sidebar and click on the "Add Artwork" button. Navigate to the folder which contains your images, select your images, and click on the "Upload" button.
Once you are finished uploading all your art and backgrounds, you can find them while you are working on any page by clicking the "Backgrounds" or "Elements" tab in the left panel of the editor


Then click the "Find Backgrounds" or "Find Art" button to pull up the background/art browser.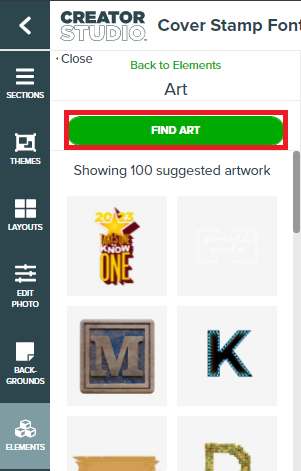 In the top right of the browser, you will see a clickable link that says "Added by Team". If you click this link, you will see the backgrounds or art that you uploaded from above. Select the background or art you want to apply and then click the "Apply Background/Art" button

According to the Terms of Service, the user has agreed not to upload and use any content that infringes or violates the intellectual property rights or proprietary rights, rights of publicity or privacy, or other rights of any third party; violates any law, statute, ordinance or regulation; is harmful, fraudulent, deceptive, threatening, abusive, harassing, tortuous, defamatory, vulgar, obscene, libelous, or otherwise objectionable. You remain solely responsible for all content that you upload.