Submitting Online Yearbook Orders
Did you pre-sell all of your yearbooks via the online Storefront?
If so, please follow the steps below to complete your yearbook order.
Before you release your yearbook to production please make sure you have locked all pages. This will cause a proof to be generated and emailed to you for review.
From Creator Studio's home screen, navigate to the "Sell" tab. Under each store listed are the books for sale in that store. Find the book you want to submit to production and click "Manage Sales" next to its name.




On the bottom right, click "Confirm you have approved the proof…" This will not appear if you have not yet locked all your pages.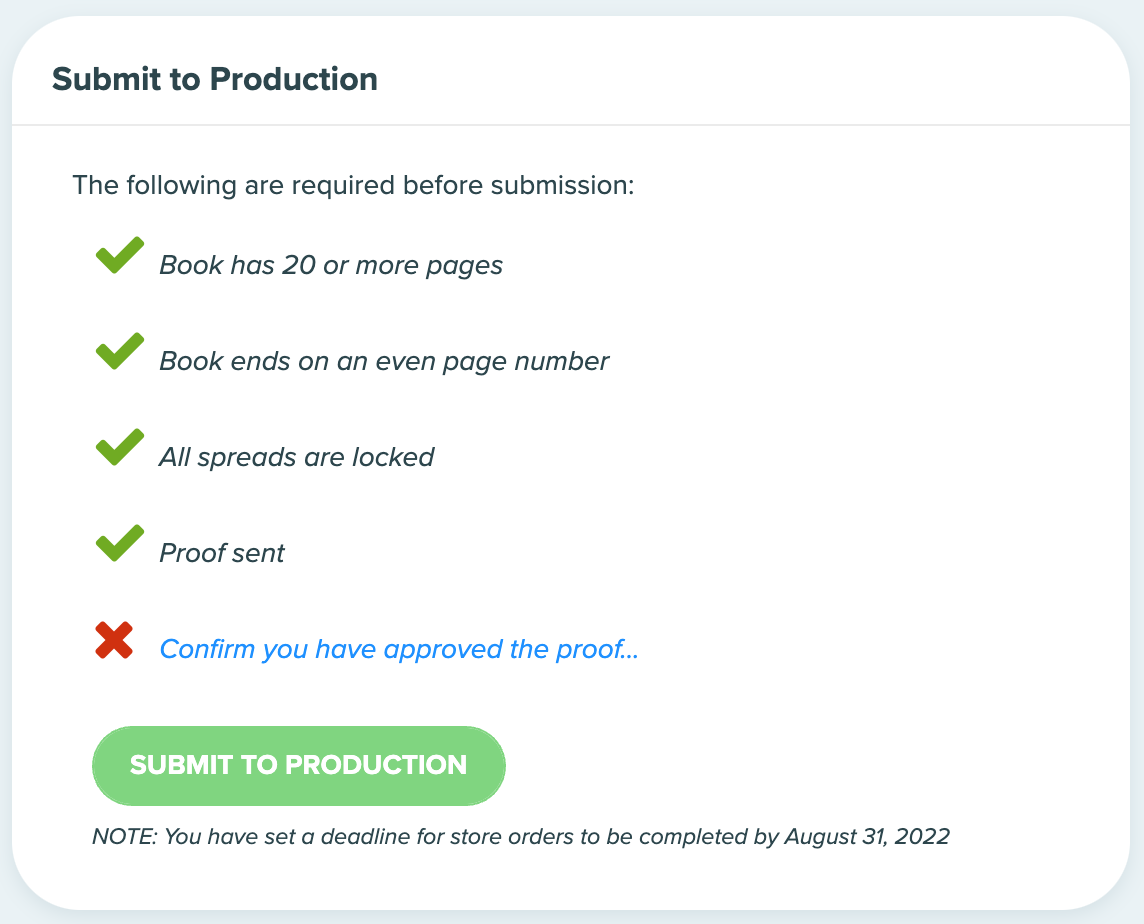 If you have not already done so, check your email to and review your digital proof. Once you are satisfied with the proof, click the checkbox indicating that you have reviewed and approved the yearbook for printing.
Click "Continue"

Click the "Submit to Production" button to release your order into print production.
Note: If you haven't placed a pre-order for your personal copy, do so prior to this step.
Note: If you are submitting to production prior to the order deadline you set for your store, you will receive a warning. This is the date shown to customers to have their orders completed by. If you submit to production too early, then these customers may miss their chance to order. Same is true if you have offered personalized pages. Customers with personalized pages have until the order deadline to complete and finalize their pages.

Review your order for accuracy and upgrade shipping (if applicable) by clicking the blue "Change" link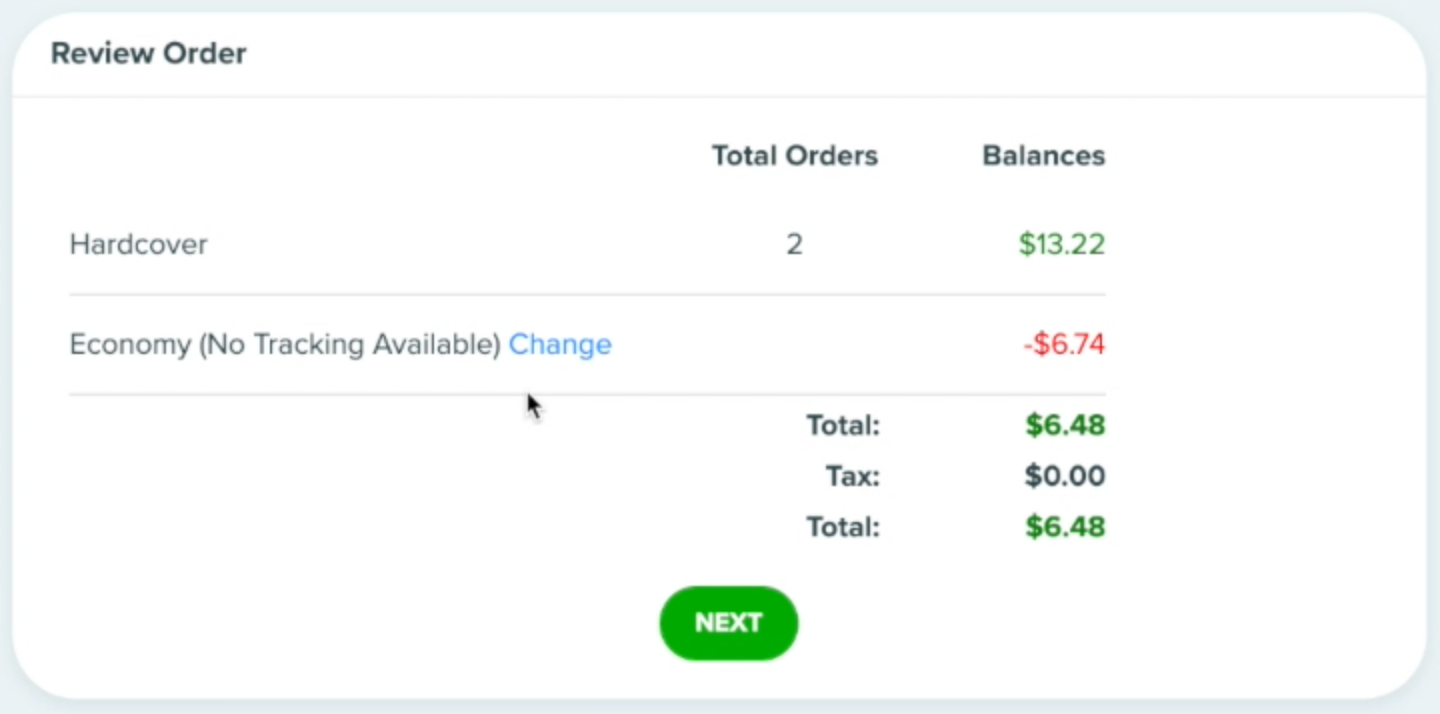 If you have earned a profit from your online sales, you'll be asked what you want to do with this profit. Indicate if you want a Voucher Code, a check sent to the financial contact, or if you want to donate your profit to the

Yearbooks for Everyone Fund

.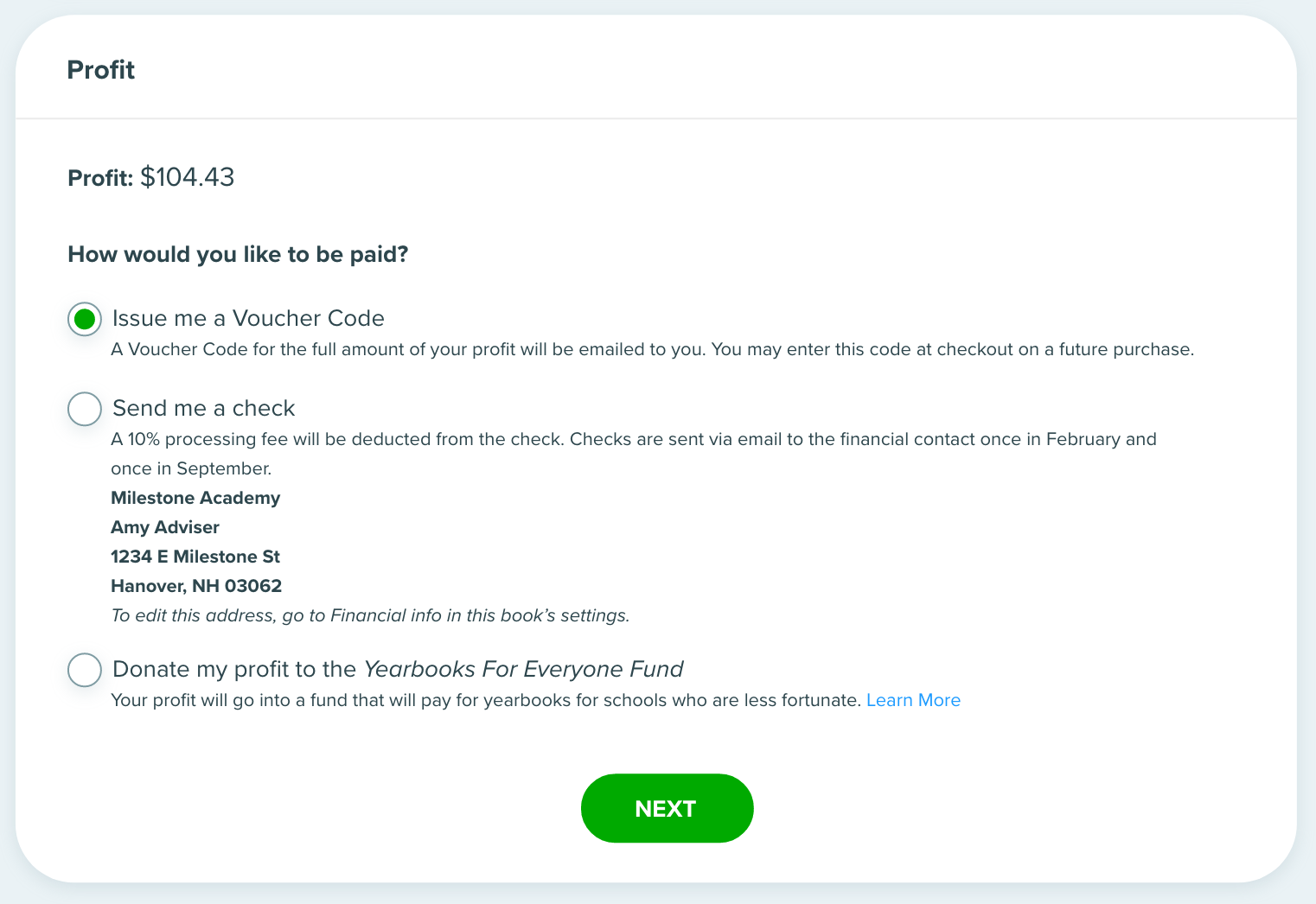 OR

If you owe payment for your order, you will be asked if you want to pay online or have an invoice sent to the financial contact. If you choose to pay online, you'll submit payment on the last step before submitting your order.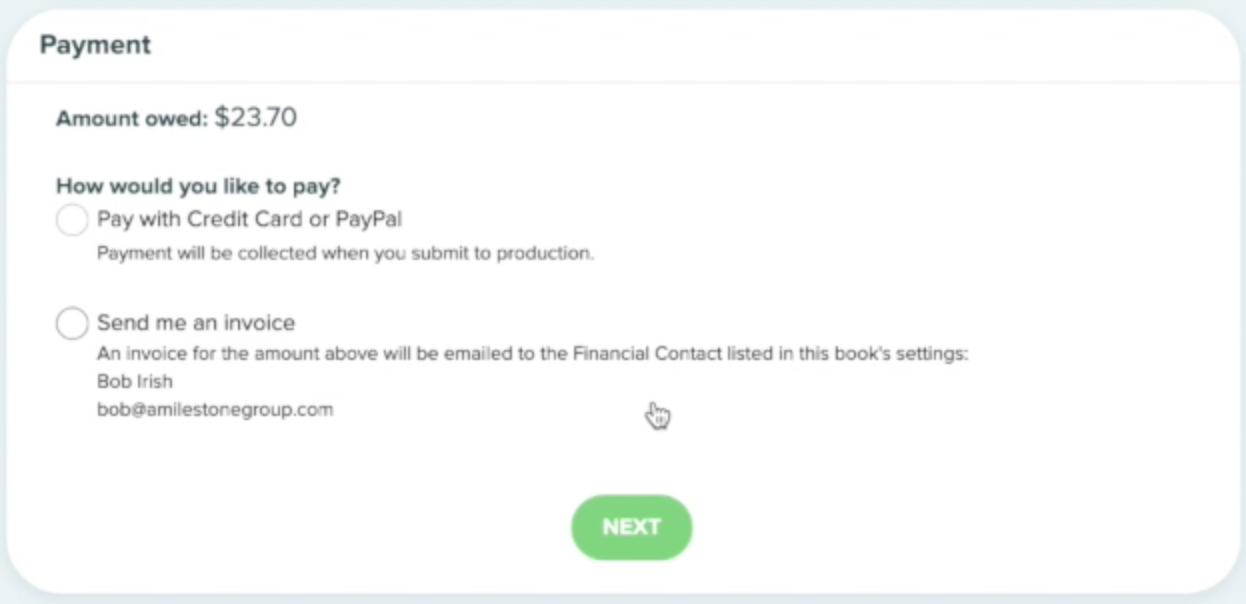 If you offered eYearbooks, choose a date when you want the eYearbooks to be emailed to everyone that purchased one. They will receive an email with a link to download the eYearbook.
Click "Next" to continue

You may continue to accept orders after you submit to production. These orders will be accepted as individual orders that are sent directly to printers and dropped shipped to the customer. To continue sales afterwards, choose "Continue selling this book for published delivery"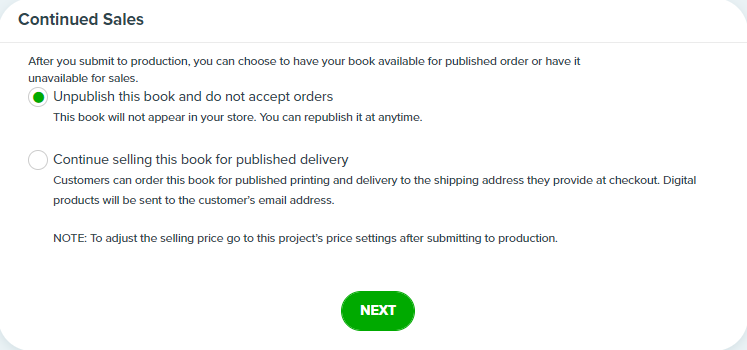 Click "Next"

Finally, to complete your order, click "Submit to Production" on the final step. If you owe money and chose to pay online, you will enter your payment information here to complete the order.
Related Articles

Online & In-School Yearbook Orders (Advisers Only)

Did you sell books in school AND pre-orders online? If yes, please remember that your order is not complete until you have added the total amount of your in-school book sales to your pre-order queue. Make sure you do this BEFORE submitting your ...

Using purchase/voucher codes with your pre-order queue

This scenario applies when your organization sells yearbooks from an online storefront AND takes in-person payments. This is a two step process. You must follow the second step of releasing your pre-order queue to send all books to the printer. STEP ...

Subsidizing your Yearbook

Selling a yearbook in an online storefront gives the adviser the option to subsidize the cost of the yearbook .This means that the purchaser of the yearbook will pay less than the actual cost of the yearbook. The school or organization must then pay ...

In-School Yearbook Orders

Did you sell ALL of your yearbooks via in-school payments? Or do you provide a yearbook to all students as part of tuition? If so, please follow the steps below to complete your yearbook order. STEP 1: Lock all sections and request a digital proof ...

Yearbook Shipping

Ship to Home Ship to home is not available when a project is available for pre-order. Ship to home is only available if the adviser chooses to offer immediate published ordering. There are multiple ship to home options. Standard Ground (2-5 business ...