1. From Creator Studio's home screen, click the "Sell" tab. The stores you have created will be listed here.
2. If you haven't assigned your project to this store, start by clicking the "Store Settings" link next to the store name.


Scroll to the "Yearbooks for Sale" section and check the box next to the project title you want to publish in this store. If a project is already published in this or another store, it will be indicated.

The book will now be listed in under this store in the "Sell" tab and marked as "Not Published".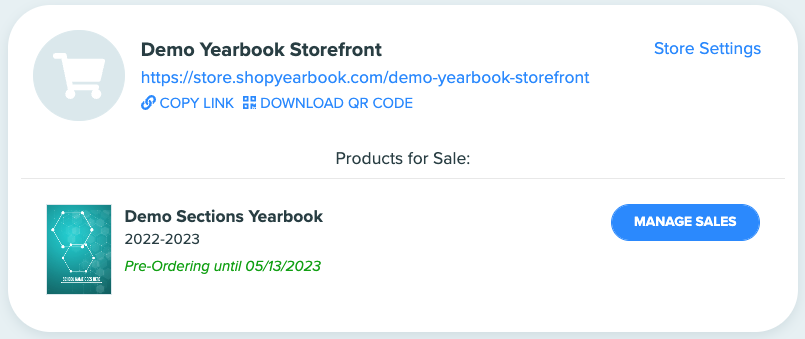 Find the book you want to publish and click "Manage Sales".
3. Choose how you want to sell your book.
Published Ordering - Choose this option if your book is completed and ready to print. Once the customer completes their purchase, their order is sent to the printers and is shipped to the address the customer provides at checkout. A book doesn't print until a customer orders it.
Pre-Order - Choose this option if you are collecting yearbook orders throughout the school year. Choose a deadline for customers to order. Once you complete your book and it's ready to print, you'll then submit it to the printers where all the books that were pre-ordered will be printed at the same time and shipped.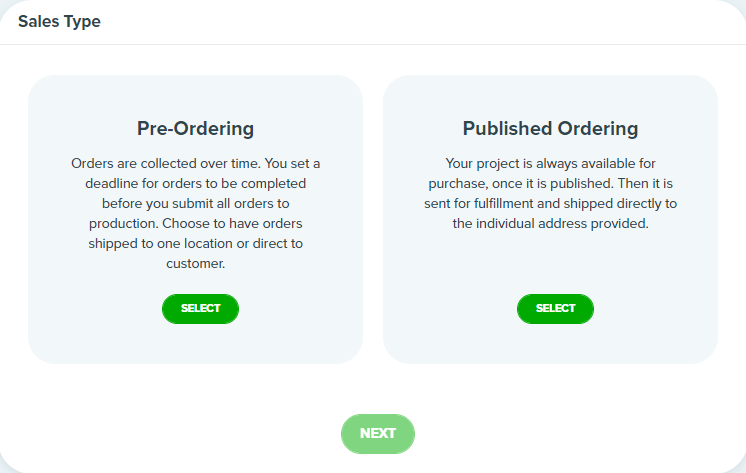 4. If you select the pre-order option, choose how you want the books to be distributed.
Ship to One Location - Choose this option if you want all the books shipped to your school or a single location. The books will come in bulk and include a manifest of names so you know who gets a book.
Ship to Customer - This option is disabled and can only be overridden by an account manager. Please contact your account manager if you would like ship to home enabled.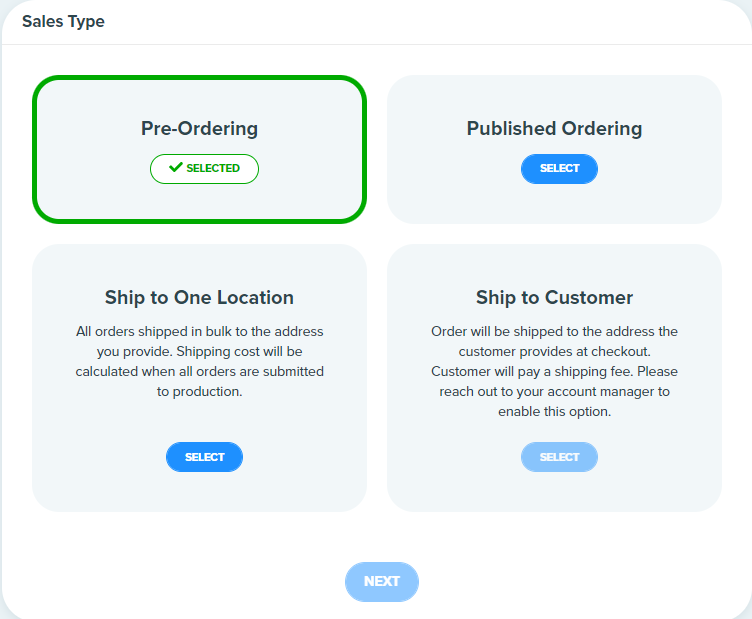 A pre-order sales type will also require you enter a "Pre-Order Deadline". This is the date your customers will see on the store indicating when they need to get their order in so you can submit all the pre-orders to production in-time to get them for distribution.
Click "Next" to continue.
5. Choose your products and add-ons.
Book Types
Check the book types you want to sell in your store. If selling hardcover and/or softcover, make sure these are enabled in the editor before publishing your yearbook. Choose eYearbook if you want to sell a digital copy of your book.
Cover Finish
If you are not having a custom cover designed or including special cover applications, then you may choose matte or glossy cover finish.
Add-Ons
Personalized Cover Stamping - Is when a name provided will be foil stamped on the bottom right corner of a cover. Choose to have names stamped in silver or gold foil. Cover Stamping is not available for published order books.
Personalized Pages - You may choose to have your customers design their own pages to be added to the back of the book. Their first 4 pages are $5. After 4 pages, they can add up 8 additional pages for $1.50 each.
Please Note: You cannot offer name stamping AND personalized pages at the same time. You must choose one or the other
6. Choose your pricing - The pages your project has so far will appear in the "Estimated Page Count" box. The prices for hardcover and softcover will show the cost of your book so far given the number of pages. If you have more pages to add, you can adjust the number in "Estimated Page Count" to calculate the estimated cost.
To mark up the price of your book to earn profit, type in a higher price in each of the sale price boxes

NOTE: Profit is only paid out on pre-orders. Profit will not be paid out on published orders


To subsidize the cost of your hardcover or softcover book, so customers pay less than cost and the school is charged the difference before the book goes to production, type in a lower sale price in the sale price boxes
Your estimated profit or loss per book will appear next to the price you enter. Feel free to play with the numbers until you get the pricing just right to meet your goals.
Click "Next" to continue.
7. In the next step you will enter financial contact information. In the case where you earn profit, we will need to know where to send that money. In the case where you owe money for your order, we will need to know who to invoice. You need to enter the information of the person responsible in this section.
If you earn profit, let us know how to handle that profit. We can send it to the school or you may choose to donate it to the Yearbooks for Everyone Fund where the money goes to schools where students are unable to get yearbooks. Learn more about the fund.
Click "Next" to continue.
8. Set up other settings before publishing your book:
Note to Customer - What you enter here will appear on the store's main page as well as in a pop up when the customer clicks "Order".
Cover Preview - This will show as the cover image in the store. You may choose to use what you have designed so far in the Creator Studio yearbook editor or choose the "Top Secret" option so no one sees your cover until it's printed.
Book Distribution - If you've chosen to have your Pre-Order books shipped in bulk to one location such as the school, we will collect the student name at checkout and they will be included in a manifest that you can download after the books have shipped. If you offered personalized pages, the personalized books will have a label on them with the student's name and grade.
Click "Next" to continue.
9. Publish your book for sale. Be sure to read everything on this Publish step before clicking "Publish". Once published, the book will be available for purchase at the URL you chose when you created your store.