What are Love Lines?
Love Lines are text based dedications that can be written and purchased by parents to be printed in a school yearbook to honor and recognize a student's achievements.
If your school or organization has decided to offer Love Lines, you have a couple different ways to purchase them.
Your yearbook adviser will have a URL specific to your child's school. They will usually share this URL on the school website, social media, fliers, etc. Check with your yearbook adviser to see if they will be offering Love Lines and what the URL will be.
If your yearbook adviser will be using an online storefront and it's accepting pre-orders, you will see an option in the store to design an ad where you will also be able to purchase a Love Line.
Once you have the Parent Ad URL (or you click the "Design My Ad" button in the store), you will be taken to the Parent Ad home screen. Login or create an account if you have not already done so. Then click the "Design a New Ad" button
Enter the student's name and select their grade. You will only see the grades that the school has chosen to offer Love Lines. Select the option to purchase a Love Line (the price will be different for each school as this is chosen by the yearbook adviser). Click the "Design My Ad" button when you are finished with your selections
Now you will be prompted to enter the text that will be used as a Love Line in the yearbook. You have a maximum of 200 characters. You will not be able to change the font or font size of the text because the yearbook adviser will do this when they design the page to ensure the uniformity of all Love Lines. Once you are finished entering your text, choose a way to pay for the Love Line. You can choose between credit card, PayPal, or PayPal Credit. Then you may click the "Place Order" button to submit the Love Line to the yearbook adviser.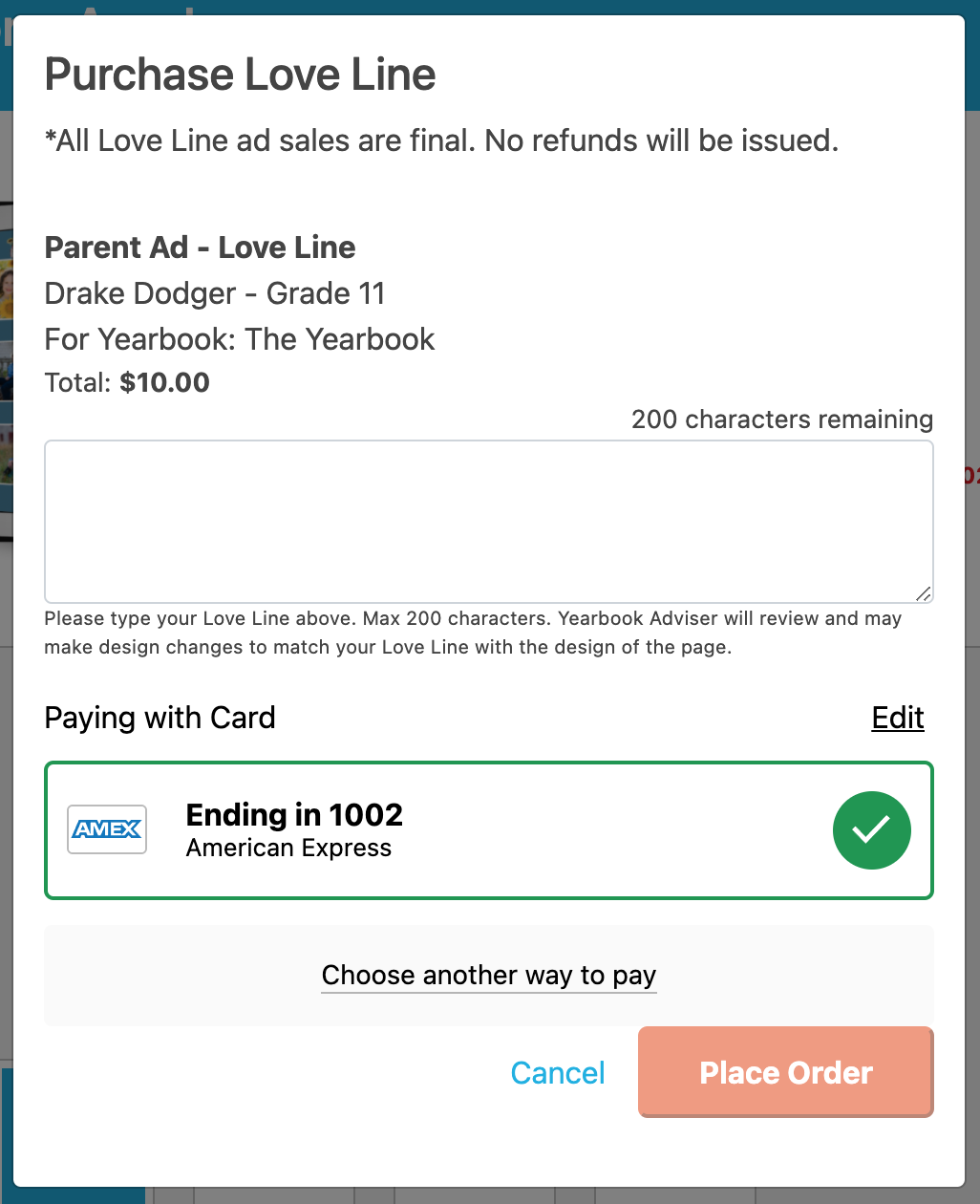 Note: Please ensure you proof read your Love Line several times and have someone else proof it as well. All sales are final and refunds will not be issued.